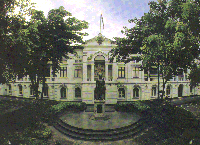 Saranrom Palace lies across from the Temple of the Emerald Buddha and the Grand Palace. Its gracefully curved central gable bears the insignia of King Rama IV.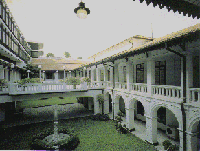 The spacious inner courtyard is adorned with sculpted fountains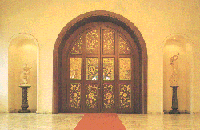 The Bua Kaew portal, with its intricately carved frieze of gilded wood, connects the old building with the new. This view is from the new building; through the portal lies the Main Hall.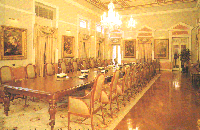 The Devawongse Conference and Dining Room boasts a ceiling inlaid with wood and gold trim, and walls decorated with Italian still-life oil paintings which King Rama V brought back from his European visit. The marble bust to the right is that of Krom Phraya Devawongse Varopakarn, the father of Thai diplomacy.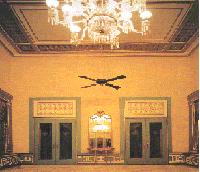 The reception area in the Traidhos Room, which originally served as the office of the Undersecretary and is now used for small receptions and conferences.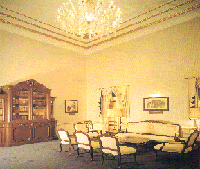 The Main Hall is a model of understated elegance with its gold-yellow motif and the ornate craftsmanship of the carved ceiling panels and ventilation grills.